Yusuf's (Cat Stevens') beautiful song, Morning Has Broken to illustrate my collage Parallèle (I'm French, from Paris).
Cat Stevens, Morning Has Broken
(in Teaser and the Firecat, 1971)
Morning has broken, like the first morning
Blackbird has spoken, like the first bird
Praise for the singing, praise for the morning
Praise for the springing fresh from the word
Sweet the rain's new fall, sunlit from heaven
Like the first dewfall, on the first grass
Praise for the sweetness of the wet garden
Sprung in completeness where his feet pass
Mine is the sunlight, mine is the morning
Born of the one light, Eden saw play
Praise with elation, praise every morning
God's recreation of the new day
Thank you for your visit !
eMmA MessanA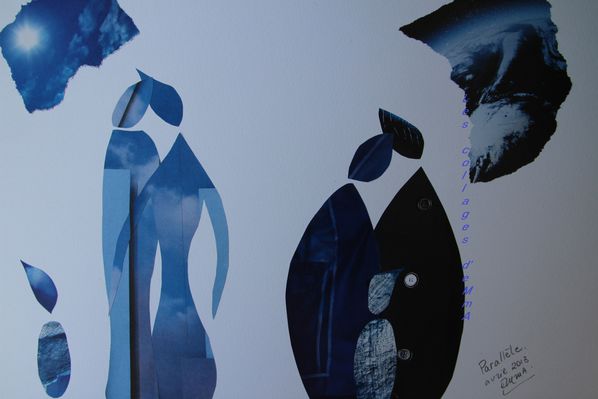 Paris XIème, april 2013
N°204 Parallèle
Collage of little pieces of paper from magazines on a sheet of paper 24 X 32cm
This collage N°204 has been sold during Intim'Expo 29-30 nov13 
I support APRES SCHOOL (charity school in India)
5% of your shopping of my collages are given to APRES
Founded by French musician Yves Duteil
Other songs of Yusuf (Cat Stevens) in eMmA's playlist  :
Morning has broken in one of my collages
Cat Stevens Yusuf is back in Paris !
C'était magique : Yusuf (Cat Stevens) à Paris Bercy, le 26 mai 2011
Vous connaissez, David Hockney ?
The official website for Yusuf (Cat Stevens)  : link
The official Facebook for Yusuf (Cat Stevens) : link
"A mind once strenched by a new idea never regains its original dimensions" : Yusuf's (Cat Stevens) Foundation, Small Kindness  : link